Leather straps are an essential component for many crafting and handyman projects, but understanding how to handle different size straps can be difficult. From making jewelry to handbags and from looping to riveting & everything in between, leather straps not only add a unique touch of style that can make any project stand out but also having the right size of strap is key for successful projects. In this article, we will discuss what leather straps are, why size matters, and how to measure and work with various sizes of straps. We'll also provide tips on where to find quality leather straps for your project needs.
What are leather straps?
In short, the term 'leather straps' refers to cut pieces of leather from hides that can be anywhere up to 5 inches wide and up to 100 inches long. After a certain width and length, crafters also call them 'leather squares.' The thickness, material and color depend on the project you intend to work on. At Hides & Knives Co., we also carry leather straps that have gone through extra treatment to seal pores on the top layer. This makes it water resistant.
Black Leather Crafting Ideas – Bag Straps, Guitar Straps, Watch Straps and Belts
Whether you're a leathercraft enthusiast or just looking to spruce up your wardrobe, these crafting ideas are sure to get you inspired. From bag straps, guitar straps and watch straps to belts and beyond, there's something out there for everyone. With black leather being the ultimate favorite among any fashionista, it can be difficult to choose the right type of leathers for your projects. We recommend opting for either full or top grain genuine leathers as they provide the most durability and strength while still maintaining a luxurious look. Plus, these types of genuine leathers are easy to dye in rich shades of black that will perfectly complement any contemporary outfit. So go ahead and get creative!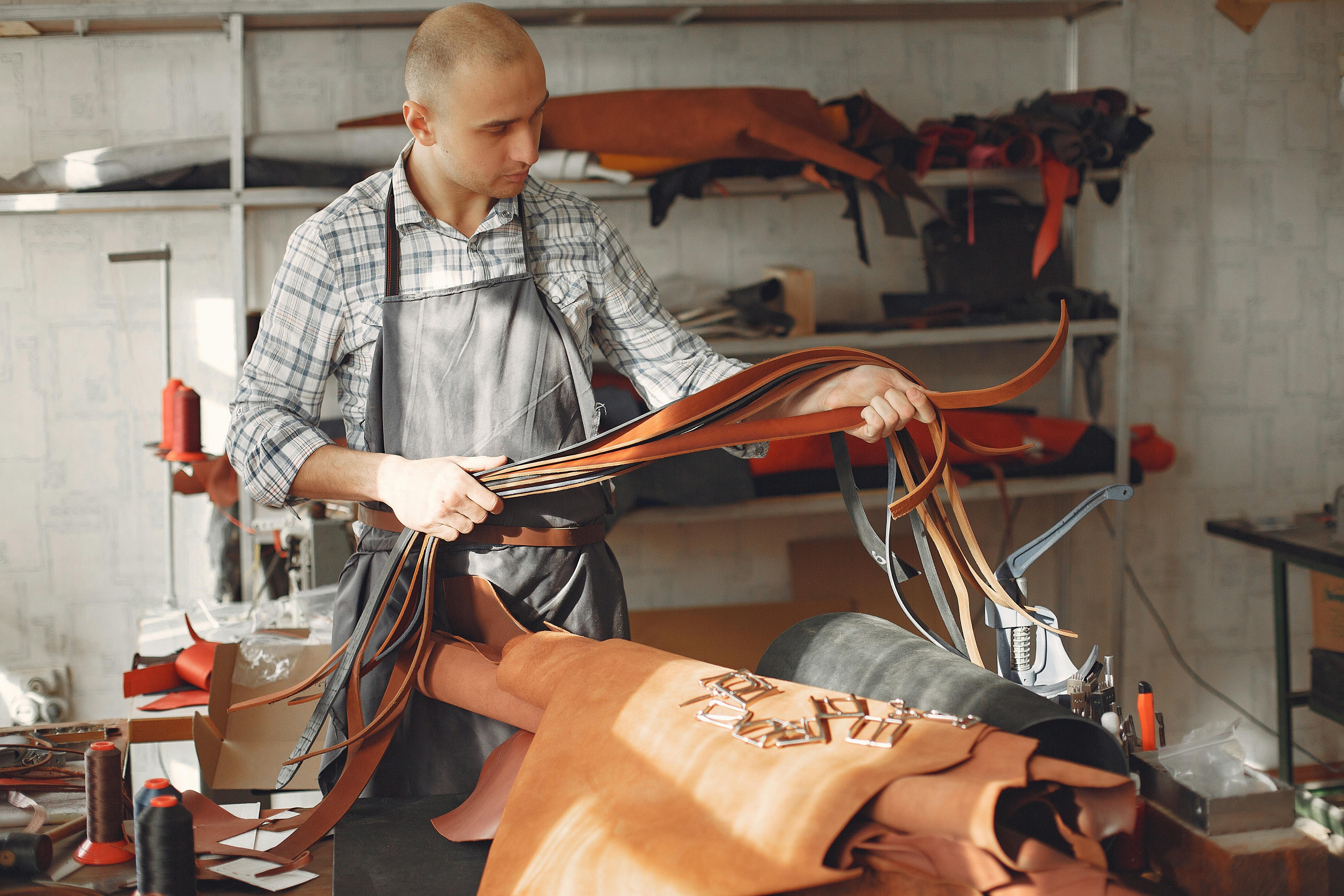 For those who have a crafty side and are looking for ideas to make something unique, belt straps or long straps made of bridle pre-cut leather are an excellent choice. If you go with Vegetable tanned leather blanks, then these can be dyed using water or oil-based dyes. The intended end products can be made from a wide range of materials combinations to create a bag strap, guitar strap, watch strap or belt.
Project Supplies: Materials Needed
Crafting leather is a rewarding and creative hobby that requires the right tools to create beautiful pieces. Whether you are a beginner or an experienced craftsman, there are certain supplies you need to have on hand for successful crafting.
Leather workers will need basic tools such as knives and cutting boards, punches and bevelers, stitching needles and thread, swivel knives and burnishers. Other tools such as essential oils or conditioners may also be necessary for making sure that the finished product is of good quality. Dyes may also be needed in order to achieve a desired shade or color for the final product. You may also need additional tools such as embossing tools to create designs like lettering or geometrics. For more intricate patterns, cutting tools like scalpels or bevelers can help shape and refine the finished product. Finally, slicking tools can be used to smooth out any rough edges for a polished look.
With these essential supplies on hand, anyone can craft quality leather pieces with ease!
From left to right: Mallet, Pricking Irons, Edge Groover & Creaser, Cutting Knives, Needle & Thread, Scratch Awl, Edge Beveler, Burnishing Tool
Measuring and Cutting Straps
Knowing how to accurately measure and cut the right size can be tricky at first but by following some simple steps it's easy to get perfect results every time. The most important step when measuring for a belt or dog collar is knowing what size you need. Measure your waist or body where the belt would normally sit, then add several inches so that you have enough length on each side of the buckle. For guitar straps, measure from one end of your shoulder down to the other end; this will help determine how long you want your strap to be.
Once you have determined your desired length, use a ruler or tape measure to mark where your strap should be cut with a pen or chalk marker. When ready, use a box cutter or knife to make sure that your cuts are even on both sides with smooth edges.
NOTE: When measuring the length of your leather strap, it is important to consider any holes or fastenings that need to be incorporated into the design. You should also account for any additional allowance needed for trimming if necessary. Additionally, you may want to measure twice in order to double check your work before cutting.
Production Hardware: Clasps, Buckles, Rivets, Chicago Screw, Snaps
When crafting with leather, having the right hardware can make all the difference. From belts and guitar straps to bag straps and more, clasps, buckles, rivets, Chicago screws and snaps are essential components of any leathercraft project. Here's a quick guide to help you decide which option will best suit your needs.
Clasps come in many shapes and sizes, offering an easy way to connect two pieces of material together. Buckles provide a secure closure through the use of a prong that slides into one of several holes punched along the length of the belt or strap being used. Rivets are posts with flat heads that are driven through both layers of material being joined together before being set by hammering on their heads from the other side.
Chicago screws and Snaps on the other hand, have a long-standing tradition in leathercraft. Chicago Screws are a versatile and commonly used fastening device in leathercraft. They provide an adjustable, secure hold between two objects, and are available in various sizes to suit different needs. This type of fastener consists of two components: a screw shaft secured by a head cap which can be tightened or loosened with the use of pliers or other tools. The screw head is usually made from stainless steel for durability; the cap which acts as the nut can either be metal or plastic depending on preference. Despite its small size, Chicago Screws are incredibly strong and will not easily loosen over time under normal conditions when properly installed.
Leather snaps are an essential part of leathercraft and are composed of two parts: the socket, which is attached to one piece of material, and the stud, which is attached to another piece of material. When pressed together these two pieces form a secure connection that holds the materials in place but can still be easily removed when needed. The strength with which they hold depends on how tightly the two parts are pressed together; this makes them ideal for applications where flexibility or adjustability is important. Leather snaps come in various sizes and styles so they can be tailored to fit any project's specific needs.
Finishing Touches: Decorative Techniques
Finishing touches are an important part of leathercraft and can take a piece from simple to stunning. It's a skillful art form, and one of the most enjoyable aspects is adding decorative techniques to your final piece. Decorative techniques such as embossing, tooling, carving, stamping and dyeing are all great ways to add a unique touch to any leather project.
Embossing is done by pressing a design into the leather using pressure, while tooling involves using tools to create intricate patterns or designs. Carving is similar to embossing but uses deeper grooves than regular tooling. Stamping adds texture and color to the surface of the leather with permanent or semi-permanent ink, while dyeing gives the leather a more uniform color throughout. All of these techniques can be used together or separately to achieve your desired effect and make any leather project look its best.
Embossing (left) vs. Stamping (right)
Braiding is a great way to add texture and visual interest to any project. You can use strips of leather or cordage in various colors to create intricate patterns like a three-strand braid or a chevron pattern. Adding beads and charms make it even more interesting! Embossing can also bring out the beauty in a piece of leather, allowing you to create designs such as flowers and animals on the surface.
Painting is another great way to embellish pieces with intricate patterns and color combinations.
Conclusion: Crafting with Leather Straps
The first step is to acquire the necessary tools, such as a leather sewing machine, needles and thread, scissors, a ruler or other measuring tool, and an awl. Next, you'll need to find the right type of leather for your project. Different types of leather have different properties and require different levels of care. You'll also need to decide whether you want a finished product or one that can be customized with dye or hardware.

Once you've gathered all the supplies needed, it's time to cut out your leather strap pieces. Measure twice so you can ensure accuracy and make sure your cuts are clean and precise. After cutting out the pieces, attach them together using stitches made with either hand-stitching methods or a sewing machine. Depending on the type of design you're making, you may also need to add rivets or buckles for additional strength and durability.

Finally, finish off your project by polishing it with leather conditioner to help protect the material from wear and tear over time. With practice, patience, and some creativity, crafting beautiful leather straps can become a fun way to express yourself!
In conclusion, crafting with leather straps offers a great way to customize or create something special. It allows you to create beautiful and unique items that can be used at home, given as gifts, or even sold. With a few simple tools, anyone can turn a piece of leather into something extraordinary. Not only is this an enjoyable hobby but it also allows for self-expression and creativity. Working with leather straps is an enjoyable and rewarding experience for both beginners and experienced DIYers alike. Whether you're making a belt or just experimenting, you'll find it relaxing and rewarding! So why not give it a try today?